T-72
Weapons

125mm 2A46M Cannon(x1), Coaxial PKT(x1), NSVT(x1)

Hitpoints

1700

Found on

Burning Sands. Iron Eagle, Kashan Desert, Operation Marlin

Seats

3

Protection Measures

Smoke Screen(x2)

Mobility

Land only

Users

MEC

Optics

Thermal(Gunner), Zoom x2(Driver, Gunner)
The T-72 is a Soviet second-generation main battle tank that entered production in 1970. It was developed directly from Obyekt-172, and shares parallel features with the T-64A. The T-72 was one of the most widely produced post-World War II tanks, second only to the T-54/55 family, and the basic design has also been further developed as the T-90.
In Project Reality, the T-72 is the main battle tank of the Middle East Coalition.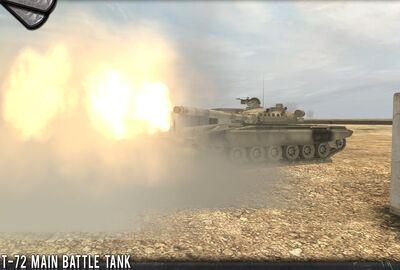 Ad blocker interference detected!
Wikia is a free-to-use site that makes money from advertising. We have a modified experience for viewers using ad blockers

Wikia is not accessible if you've made further modifications. Remove the custom ad blocker rule(s) and the page will load as expected.