The RPG-7 (Russian: РПГ-7) is a Soviet portable, unguided, shoulder-launched, anti-tank rocket-propelled grenade launcher. Originally the RPG-7 (Ручной Противотанковый Гранатомёт – Ruchnoy Protivotankovyy Granatomyot, Hand-held anti-tank grenade launcher) and its predecessor, the RPG-2, was designed by the Soviet Union; it is now manufactured by the Bazalt company. The weapon has the GRAU index 6G3. The English-language term "rocket-propelled grenade", though frequently encountered and reasonably descriptive, is a backronym for "RPG" and not based on a literal translation.
The ruggedness, simplicity, low cost, and effectiveness of the RPG-7 has made it the most widely used anti-armor weapon in the world. Currently around 40 countries use the weapon, and it is manufactured in a number of variants by nine countries. It is also popular with irregular and guerrilla forces. The RPG has been used in almost all conflicts across all continents since the mid-1960s from the Vietnam War to the early 2010s War in Afghanistan.
The launcher is reloadable and based around a steel tube, 40 millimeters in diameter, 95.3 centimeters long, and weighing 7 kilograms. The middle of the tube is wood wrapped to protect the user from heat and the end is flared to assist in blast shielding and recoil reduction. Sighting is usually optical with a back-up iron sight, and passive infra-red and night sights are also available.
The RPG-7 can fire a variety of warheads for anti-armor (HEAT, PG-Protivotankovaya Granata) or anti-personnel (HE, OG-Oskolochnaya Granata) purposes, usually fitting with an impact (PIBD) and a 4.5 second fuze. Armor penetration is warhead dependent and ranges from 30 to 60 centimeters of RHA; one warhead, the PG-7VR, is a 'tandem charge' device, used to defeat reactive armor with a single shot.
PG-7VL
PG-7VR

Dual 64mm/105mm HEAT warhead for defeating modern armored vehicles equipped with reactive armor blocks. The first warhead (64mm HEAT) detonates the reactive armor block prematurely and the second warhead (105mm HEAT) passes through the gap to hit the exposed armor underneath.

TBG-7V

105 mm Thermobaric warhead for anti-personnel and urban warfare.

OG-7V

40mm fragmentation warhead for anti-personnel warfare (warhead is within caliber due to limitations of international treaties).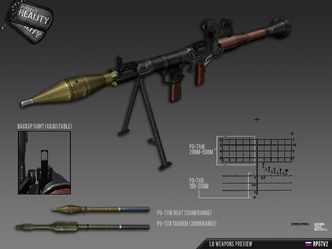 Ad blocker interference detected!
Wikia is a free-to-use site that makes money from advertising. We have a modified experience for viewers using ad blockers

Wikia is not accessible if you've made further modifications. Remove the custom ad blocker rule(s) and the page will load as expected.