The United States Navy Mark 12 Mod 0/1 Special Purpose Rifle (SPR) is a rifle in service with United States Special Operations Forces in Operation Enduring Freedom and previously in Operation Iraqi Freedom. SPR initially stood for Special Purpose Receiver, but that nomenclature has been replaced as the weapon became a stand-alone weapons system, and not just an add-on upper receiver assembly (part of the proposed SOPMOD upgrades). The SPR was eventually type classified by the U.S. Navy as the Mk 12. Note that the weapon was developed by a Navy office (Naval Surface Warfare Center Crane Division) for SOCOM units, not for use by units that fall under the conventional US Navy.
Different U.S. military service branches appear to typically deploy different iterations of the SPR. Photographs, including both U.S. Department of Defense photographs and privately obtained photographs, consistently show most U.S. Army Special Forces operators using the Mk 12 Mod 0, while NAVSPECWAR operators and U.S. Army Rangers have been identified as using the Mk 12 Mod 1 version. In fact, Marcus Luttrell mentioned the fact that he carried a MK 12 during Operation Red Wings several times in his 2007 book Lone Survivor: The Eyewitness Account of Operation Redwing and the Lost Heroes of SEAL Team 10. Limited use was seen with the USMC.
In Project Reality, the MK12 SPR is used by the USMC marksman class, avaliable with or without a suppressor. 
MK12 SPR

Used by USMC
30 round magazine
Bipod
3.5–10×40 mm Leupold LR M3 Scope
Modifications
The MK12 SPR is the first weapon in PR to feature a sound suppressor.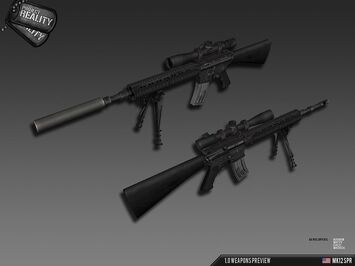 Ad blocker interference detected!
Wikia is a free-to-use site that makes money from advertising. We have a modified experience for viewers using ad blockers

Wikia is not accessible if you've made further modifications. Remove the custom ad blocker rule(s) and the page will load as expected.