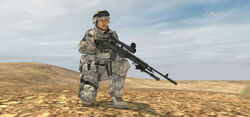 The M21 DMR is a semi-automatic version of the
M14
, equipped with a bipod for additional stability in Project Reality. The green synthetic variant has been replaced by the
M14 EBR
as of version 1.0.
Green Sythetic

Used in by modern-day USMC and US Army marksmen
Offered a bipod for additional stability and zoom levels
Versions

Leupold Scope
ACOG 4x Scope

Wooden

Used by Vietnam-era USMC and US Army sniper, and Argentinian Marksman
No bipod, adjustable scope zoom allows for increased view distances and lowered deviation
Versions
Ad blocker interference detected!
Wikia is a free-to-use site that makes money from advertising. We have a modified experience for viewers using ad blockers

Wikia is not accessible if you've made further modifications. Remove the custom ad blocker rule(s) and the page will load as expected.