Real Life Details
Edit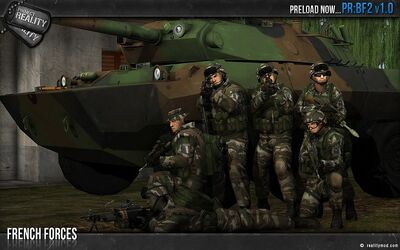 In Game Details
Edit
The French Forces are a BLUFOR faction in Project Reality 1.21.
Equipment
Edit
Small Arms
Grenades and Launchers

OF 37 Fragmentation
APAV 40 Rifle Grenade

Man Portable Anti-Tank Weapons
Emplacements
Mines
Land Vehicles

AMX-56 Leclerc
VBCI APC
VAB APC
GBC 180

Helicopters

Chinook
Eurocopter Tiger
AS 565 MB Panther 

Jets
Operation Maps
Edit
AAS

Operation Marlin (France vs MEC)
Xiang Shan (France vs China)

Insurgency

Operation Marlin (France vs Insurgents)
Operation Marlin (France vs Hamas)
Ad blocker interference detected!
Wikia is a free-to-use site that makes money from advertising. We have a modified experience for viewers using ad blockers

Wikia is not accessible if you've made further modifications. Remove the custom ad blocker rule(s) and the page will load as expected.