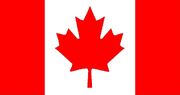 Real Life Details
Edit
The Canadian Forces (CF), officially the Canadian Armed Forces, is the unified armed force of Canada, as constituted by the National Defence Act, which states: "The Canadian Forces are the armed forces of Her Majesty raised by Canada and consist of one Service called the Canadian Armed Forces."
This unified institution consists of sea, land and air elements referred to as the Royal Canadian Navy (RCN), Canadian Army, and Royal Canadian Air Force (RCAF). Personnel may belong to either the Regular Force, Primary Reserve, Supplementary Reserve, Cadet Organizations Administration and Training Service, or the Canadian Rangers. The Department of National Defence acts as the civilian support system for the Canadian Forces.
The Canadian Forces is overseen by the Armed Forces Council, chaired by the Chief of the Defence Staff. The Commander-in-Chief is the reigning Canadian monarch, Queen Elizabeth II, who is represented by the Governor General of Canada.
In Game Details
Edit
The Canadian Forces is a BLUFOR faction in Project Reality
Equipment
Edit
Small Arms

Grenades & Launchers
Man Portable Anti-Vehicle Weapons
Emplacements

BGM-71 TOW
M2HB
FIM-92 Emplacement

Mines

M15 Anti-Tank Mine
M18A1 Claymore
Ground Vehicles

G-Wagen
LAV III
Leopard MBT

Helicopters

Chinook Transport Helicopter

Jets
Operation Maps
Edit
AAS

Kashan Desert (CF vs MEC)
Yamalia (CF vs Russia)

Insurgency

Kokan (CF vs Taliban)
Operation Archer (CF vs Taliban)
Ad blocker interference detected!
Wikia is a free-to-use site that makes money from advertising. We have a modified experience for viewers using ad blockers

Wikia is not accessible if you've made further modifications. Remove the custom ad blocker rule(s) and the page will load as expected.