AAVP-7A1
Weapons

Mk19 40mm Grenade Launcher(x1), M2HB(x1)

Found on

Muttrah City, Fallujah West, Jabal Al Burj, Pavlovsk Bay, Operation Barracuda

Seats

8

Protection Measures

Smoke(x2)

Mobility

Amphibious

Users

United States Marine Corps

Optics

Zoom x2(Gunner, Driver)
The Assault Amphibious Vehicle (AAV)—official designation AAV-7A1 (formerly known as Landing Vehicle, Tracked, Personnel-7 abbr. LVTP-7)—is a fully tracked amphibious landing vehicle manufactured by U.S. Combat Systems (previously by United Defense, a former division of FMC Corporation).

The AAV-7A1 is the current amphibious troop transport of the United States Marine Corps. It is used by U.S. Marine Corps Assault Amphibian Battalions to land the surface assault elements of the landing force and their equipment in a single lift from assault shipping during amphibious operations to inland objectives and to conduct mechanized operations and related combat support in subsequent mechanized operations ashore. It is also operated by other forces. Marines call them "amtracks," a shortening of their original designation, "amphibious tractor."
In Project Reality, the AAVP-7A1 is the armoured personnel carrier of the United States Marine Corps.
The AAVP-7A1's grenade launcher is the only vehicle in game to feature projectile dropoff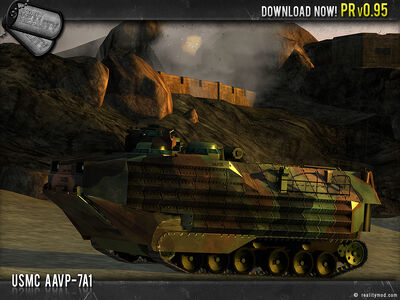 Ad blocker interference detected!
Wikia is a free-to-use site that makes money from advertising. We have a modified experience for viewers using ad blockers

Wikia is not accessible if you've made further modifications. Remove the custom ad blocker rule(s) and the page will load as expected.